Koffee?
A beloved cafe on Audubon street, open day and night
- Great Coffee
- Work Space
- Open late
★★★★
200+ reviews on Yelp
Koffee? has delighted customers in the New Haven area for over 30 years and is still a fan favorite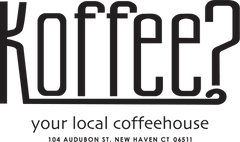 Here's a glimpse at Koffee?. Hoodies, shirts, and
everything else you can imagine
Anatomy of The Space
Koffee? boasts a charming and cozy interior space. With a rustic and minimalist decor, the cafe creates a welcoming and comfortable atmosphere for its patrons. The ambiance is often praised for being relaxed, making it an ideal spot for students and locals to gather. The seating arrangement includes both tables and booths, providing options for different group sizes. The cafe's warm and inviting lighting adds to the overall ambiance, making it an ideal place to enjoy a cup of coffee or a meal.
60+
pounds of coffee brewed everyday
New artwork
from local artists displayed each month